A Tale of Two Viruses
The hoax about a "deadly" virus has gone on long enough now, and it's time to consign it to the dustbin of history. It's time for homo sapiens to rise up and begin acting like free human beings again, rather than frightened muzzled slaves.
The very first point for people to bear in mind is that the majority are living just like the shackled underground prisoners in Plato's cave allegory. They have a crippled epistemology, since they get all of their 'information' from the mainstream media or censored social media. Their 'reality' is the narrative touted by our psychopathic ruling elite who have perpetrated terrible crimes and perpetuated cunning deceptions upon society, of which we shall have more to say.
2020 has been the year of the virus. A growing number of people are suspicious of government overreach and media hype about the "coronavirus" - a virus that's so deadly you have to be tested to know if you've got it. A virus that is somehow 'clever' enough to know if there is someone to infect at the other side of a face mask, in which case it will have enough incentive to fly through, but will be stopped even at high velocity when being expelled from a mouth or nose, in contrast to basic physics and empirical evidence. A virus with a measuring tape and a watch, that will fly five feet above the floor to 'get' people walking to the toilet without a mask, and will only fly at lower altitudes to hit drinkers or diners after the evening curfew has started.
A virus with skills in geography and politics, so it does little to bother people in nations like Sweden or Belarus that reject lockdowns, but takes great delight in seeing the policy changes in countries with corrupt or compromised leadership that go along with Operation Lock Step, such as "mandatory wearing of face masks", "body-temperature checks", "imaging [...] technology [...] to detect abnormal behavior that may indicate 'antisocial intent'."
Here's the Lazy Scammer's Guide to Fabricating a Scamdemic:
Tout a regular seasonal flu outbreak as a "global pandemic" (a tautology), with the flu rebranded as "Covid" to make it sound more scary.
Initially wildly inflate the true infection fatality rate (IFR) from 0.1% - 0.2% up to 1%, 2% or more by excluding the vast majority of asymptomatic or mild infections, to diminish the denominator.
Know that all epidemics broadly follow a Gompertz curve, with an initial rapid - but never exponential - increase in daily deaths, reaching the peak and then going into a slower decline, and introduce policies such as lockdowns, trying to get the timing so as to make it appear like the decline was due to the intervention, rather than increasing immunity.
Provide a pretext for lockdowns by having corrupt scientists (such as Neil Ferguson), who are funded by dirty money funnelled through the Gates Foundation, come up with claptrap and pseudoscientific computer models that will predict dire consequences such as millions dead and hospitals being overwhelmed if people's freedoms are not taken away.
Use lockdowns to bring about excess deaths that can be used as 'evidence' in support of further lockdowns, i.e., measures aimed at destroying small businesses and transferring wealth to the billionaire elite, that are ostensibly about "fighting the virus".
Should anyone ask why it is necessary for a second - or third - lockdown, when the first - or second - lockdown never worked, dismiss them as "conspiracy theorists".
Use the PCR test that relies on 30 or 40 cycles, each of which doubles the target genetic material, so that there are up to 5% false positives even with close to zero incidence of "the virus" in the population.
Inflate the numerator (and hence both the IFR and number of "Covid" deaths) by classing deaths with "Covid" and from other causes such as heart attacks, strokes, cancer, and even traffic accidents, as deaths from "Covid", reinforced by the initial false assumption about "Covid's" supposed high lethality.
Have the mass media, and corrupt search engines such as Google, promote any lies or 'evidence' that supports the scam and suppress any evidence or medical professionals speaking out that refutes it.
Even months after any real epidemic of a normal virus has fizzled out due to the population becoming close to herd immunity, sustain the fraud by sticking with mass testing using the unreliable PCR procedure to find "cases", continue to class deaths from other causes as deaths from "Covid", continue with lockdowns and other insane measures such as forced face masks, peddle garbage about the measures being necessary to prevent a "second wave" or hospitals being overwhelmed, and keep using the media and corrupt, biased searched engines to suppress dissent.
Some will just talk of billionaires conspiring to get even richer by destroying small businesses and the middle class, or "Big Pharma" aiming to profit from vaccines or from testing for viruses. And Bill Gates' name keeps coming up. Whilst there is some truth to all of that, it misses the fundamental importance of who is ultimately behind our societies' serious problems.
The SARS-CoV-2 coronavirus was touted as a terrible threat, capable of killing some 2.2 million in the US and 510,000 in the UK. In fact, it's a mild flu-type virus with a 99.8% survival rate, and only a serious threat to the very elderly with several co-morbidities. Part of the "pandemic" scam is based on classing deaths with the virus as deaths from the virus. Another part involves a test that generates enough false positives that the hoax can be sustained, many months after an epidemic has peaked in a particular country.
Around April there really was a global epidemic from a flu-like virus. However, the number of deaths 'caused' by "the virus" was greatly exaggerated. By assuming from the start that the virus was somehow particularly lethal, Hoaxers could count any death with the virus as from the virus. There were excess deaths in some countries, but these were mostly a consequence of lockdown policies and untreated medical emergencies such as heart attacks and strokes.
Moreover, in 2009 the WHO changed its definition of pandemic. On May 4, 2009 its website defined a pandemic as "several, simultaneous epidemics worldwide with enormous numbers of deaths and illness." By the next day there was a new version that stated: "Pandemics can be either mild or severe in the illness and death they cause, and the severity of a pandemic can change over the course of that pandemic."
And so, Hoaxers could already declare a "pandemic" before they knew just how much success they would have with various subterfuge in inflating the stats, not to mention the all too real excess deaths due to lockdown policies.
In the early part of the scam, the virus was made out to be particularly lethal by the fact that the vast majority of infections, which are either asymptomatic or mild, were not counted. The infection fatality rate (IFR) was never more than around 0.2% (averaging across all age groups), yet by deflating the denominator and excluding most infections, the IFR could be made to appear frighteningly high.
Apart from the false claims about high lethality, another pretext cited for all the almost unbelievably stupid restrictions on freedom, like mandatory face coverings, was the lie about "asymptomatic transmission". It was claimed that individuals could be unwitting "super-spreaders" of the 'deadly' coronavirus, without exhibiting any symptoms. However, in June 2020, well after the epidemic had peaked in many countries, the WHO admitted that asymptomatic transmission was "rare" or even "very rare".
This was subsequently backed up by a November study showing that in Wuhan, out of a total of 1,174 close contacts of asymptomatic positive cases who were traced, every single one of them tested negative for Covid-19!!! What's more, "virus cultures were negative for all asymptomatic positive and repositive cases, indicating no 'viable virus' in positive cases detected in this study". That's further confirmation that it wasn't simply luck that prevented those contacts from becoming infected; the asymptomatic "cases" were not infectious and thus it was impossible for them to transmit the disease!
Several months after most countries had seen their epidemic peak in the spring, the later stage of the 'pandemic' or plannedemic swindle became known as a "casedemic". The dubious RT-PCR test used to find "Covid-19" cases was never intended to diagnose disease. It will only detect the presence of viral genetic material; it cannot distinguish between infectious intact virus or fragments of inactivated virus from a prior infection that was defeated by the immune system months ago. And a typical RT-PCR assay involves up to 40 thermal cycles, each of which doubles (assuming 100% efficiency) copies of the viral target. Thus, even with only 30 cycles the target material - which could have originated from contamination in the lab - is 'amplified' roughly 230 times, or 1,073,741,824 times.
The RT-PCR tests used for "Covid-19" testing in the UK have over 95% sensitivity and specificity, which means that even under laboratory conditions, they can generate up to 5% false positives or 5% false negatives.
Many people, even politicians, who don't understand the maths about false positives think that 95% sounds quite good as an indication of reliability. They imagine that if you conducted tests on 100,000 people and found that 3,000 tested positive, it would point to 3,000 "cases" - or 3% of people infected with the virus. They probably see the real number of cases as within about 5% of 3,000, i.e., 2,850 to 3,150.
However, given the false positives, they are making the same petitio principii or begging the question fallacy as are those who assume the virus is quite deadly and consider it reasonable to class very elderly people who die with several 'comorbidities' and with "the virus" as having died from the virus.
If the real incidence of the disease in the population is very low, then the proportion of real positives to false positives becomes very low. Let R be the concept of "layman's" reliability that they confuse with the false positive rate, let N be the real incidence of the disease in the population, and let F be the false positive rate of the test procedure (all expressed as a percentage). And to simplify, we assume that there are no false negatives. Then we have:
R = N / (N + F - 0.01 * N * F)
For example, suppose 100,000 people are tested, the false positive rate is 3% and the real incidence of the disease in the population is 0.3%. Then we have R = 0.09116, which means that the true positives are only 9.116% of all positives. There are 300 real cases, and then of the remaining 99,700 there are 2,991 false positives. And so there are 9.97 times as many false positives as true positives.
For more examples and further explanation, see this article here.
There are many things that governments and their advisors have got wrong, such as their baseless assumptions that lockdowns and face masks, etc., work, in curtailing spread of "the virus". One merely need look at the official data of "Covid" deaths and infections, and compare with the timing of various "non-pharmaceutical interventions", to see that - while the measures certainly have extremely harmful effects on non-Covid illnesses, fatalities, mental health, the economy, people's freedoms, and so on, the NPIs at best do not reduce Covid mortality, and probably increase it slightly in the long term.
For example, as of November 28, 2020, Sweden - which most politicians have to pretend somehow doesn't exist, has had a total of 660 "Covid" deaths per million of population (pmp). The corresponding figures for the UK and USA, both of which in contrast have had lockdowns and mandatory face coverings, are 853 and 819 respectively.
Apologists for the orthodox narrative will misleadingly point to Sweden having a lower population density, but what matters is the proportion of the population living in urban areas, i.e., the degree of urbanization. For Sweden, 87.71% was urbanized in 2019, compared to a corresponding 83.65% for the UK. Since 97% of Sweden is uninhabited, the people have to be crammed into the remaining 3%.
Similarly, Brazil, whose President Bolsonaro has been a long-time critic of stay-at-home measures and has described new lockdown to control "second waves" as "crazy", has had 807 coronavirus deaths pmp. Peru, which imposed mandatory masks and a curfew, and banned people from leaving home except for accessing essential goods and services or producing, acquiring or supplying food, has had 1,081 deaths pmp from coronavirus.
In some cases, the politicians may be sufficiently ignorant, ill-advised or slack-brained to believe in their Covid dogma, and yet, especially in the case of the 'scientists' who advise them, the 'errors' are clearly deliberate, since the compromised scientists must deny things that they know to exist, such as T-cell immunity and herd immunity, in order to promote their politically-motivated flimflam.
An excellent article showed two central 'errors' in the assumptions of SAGE, the "scientific advisory group" that advises the UK government on 'emergencies', with its members including the deceptive duo of "Sir" Patrick Vallance and Professor Chris Whitty, and the infamous Professor Neil Ferguson.
They started out by (1) incorrectly assuming that 100% of the population was susceptible to the coronavirus at the start of the 'pandemic', since it was described as a "novel" virus, and there was supposedly no immunity to it. And (2) they also falsely assumed that measuring prevalence of antibodies in the general population would show the fraction of the population that had been infected by the virus. Since they found antibodies in some 7% of the population, they concluded that 7% had been infected, leaving ~93% of the population susceptible.
Their postulate (1) is false, because of ~30% prior immunity. There are four coronaviruses (OC43, HKU1, 229E and NL63) that cause the common cold, endemic in the population. Evidence suggests that people previously infected by a common cold coronavirus are provided with some degree of resistance or immunity to the closely-related Covid-19 coronavirus. Multiple research groups found that some 30% (with outliers ranging from 20% to 80%) of the population showed a strong T-cell response to the Covid-19 virus (SARS-Cov-2) before the virus reached their countries.
Mateus et al (2020) conduced a study to determine the immunological mechanisms behind pre-existing reactivity to SARS-Cov-2 and found a range of pre-existing memory CD4+ T cells that are cross-reactive with comparable affinity to the SARS-CoV-2 coronavirus and the common cold coronaviruses.
SAGE's postulate (2) is false, because it pretends the human immune system relies wholly or mostly upon antibodies, and ignores other aspects such as memory T cells. Pro-lockdown, anti-freedom advocates also tried to scare people by peddling a related claim that pretends declining levels of antibodies corresponds to declining levels of immunity. In fact, it is highly inefficient for the immune system to continue producing a particular antibody for the rest of a person's life after an infection, and so the encounter with the pathogen becomes recognised by memory T cells, that will generate another antibody response if the same pathogen is encountered again.
So, months after the epidemic has peaked, in the typical person who caught Covid at the peak their T cells have been primed but antibody levels have naturally declined. SAGE's 7% of people with detectable antibodies only include those who recently encountered the virus and needed to generate a robust antibody response to beat it.
When we allow for those who aren't testing positive for antibodies but did indeed catch the virus and already have memory T cell immunity, this adds approximately 25% to SAGE's 7%. Also, another 10% of the population can be discounted - young children are very unlikely to become ill from the virus, and are unlikely to transmit it to others.
Rather than SAGE's 7% Covid-infected and 93% susceptible, there are 32% Covid-infected, 30% with prior immunity from other coronaviruses, and 10% who are not susceptible or likely to transmit. This leaves 28% susceptible to Covid, and means that the UK is already close to herd immunity.
Given Hoaxers' wildly inflated claims about IFR, typically around 1% as opposed to 0.2% or lower, they would claim 68,000,000 (UK population) * 93% * 1% = 632,400 possible deaths without their lockdowns, face masks and other insane policies. The true figure - if we deny herd immunity - would be 68,000,000 * 28% * 0.2% = 38,080. Yet 28% is close to herd immunity, so that the virus could never again bring about any more "waves" in any way comparable to the 'first' wave.
Viruses don't come in waves. There is a wave, and then possibly a ripple or two, particularly if cretinous politicians have placed restrictions on travel, and regions of a country were not badly hit first time round. The consequence of kicking the can down the road is that the vulnerable need to be shielded for longer, the economy is further ruined, there are more deaths from all causes, and a decline in mental health.
Hoaxers have to deny Sweden, herd immunity, T cell immunity, cross-reactive immunity, etc.. They have to postulate a virus that is more intelligent than they are. They have to pretend lockdowns and face coverings work despite overwhelming evidence to the contrary. And the only reason they can get away with this and dupe millions into believing their bovine excrement is because of their control of the media.
There is actually another type of 'virus', which more precisely, is a parasite. An elite group of parasites, perverts and psychopaths bent on world domination. Interestingly enough, there is a strong correlation (r = 0.65) between "Covid" deaths per million of population (pmp) and the number of these 'viruses' pmp, when both are on a log scale.
For example, the USA has 24,585 of these 'people' pmp and had 686 "Covid" deaths pmp (as of around October 22, 2020). The UK has 4,970 of these 'viruses' pmp and had 649 "Covid" deaths pmp. The Netherlands has 2,515 'viruses' pmp and 401 "Covid" deaths pmp. Poland has 182 'viruses' pmp and 106 "Covid" deaths pmp. Japan has 9 'viruses' pmp and 13 "Covid" deaths pmp. S. Korea has 4 'viruses' pmp and 9 "Covid" deaths pmp. China has 2 'viruses' pmp and 3 "Covid" deaths pmp. See the Appendix for full data.
Some of the pages at the thousands of hyperlinks on the other pages at this site have subsequently been taken down, but there is a good chance they will have been archived at the Wayback Machine. The crooks can censor posts on the major social media that they control, they can have paedophile-infested outlets like the BBC present lies as 'fact', they can bias the results on the major search engines that they control...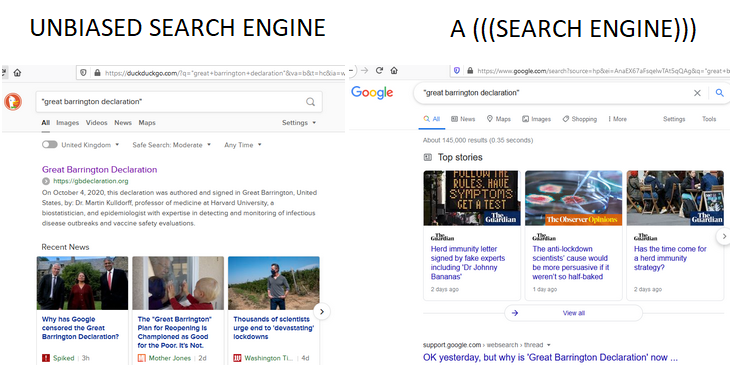 ...but they can't eradicate everything that exposes their chicanery. There is enough material remaining for anyone to verify all of the information presented here. But don't just use Google, use alternative search engines like DuckDuckGo.
To learn how it all came about, we must go back to 1864 when a book was published by Maurice Joly titled The Dialogue in Hell Between Machiavelli and Montesquieu. Any elite group seeking to rule over and enslave the majority, and exterminate any pockets of resistance, would need a blueprint for a Machiavellian approach to gaining great political power, and one essential part of the plan is to take control of the press - and subsequent media such as radio, TV, movies, and "social" media.
The psychopaths can never micro-manage all press including local outlets throughout history to such extent that all of the evidence against them is suppressed. What they can do is manage the editorials and the 'conclusions' based on rejecting facts and cherry-picking 'evidence'. Investigators who show any signs of wanting to compile evidence-based reports that are not flattering to the psychopathic rulers are told that to do so would be tantamount to career suicide.
And so the masses are living just like those in Plato's cave allegory. They don't even know that their so-called 'reality' is merely "shadows" projected on a "wall" in front of them, since they cannot "turn" their heads and see the puppeteers who are doing the projecting behind them. In other words, they don't even know that "the coronavirus" is - at worst - merely a mild flu virus, if it even exists. They are not aware that the official 9/11 narrative is a pack of lies that is wildly improbable (see below) and physically impossible. They have no idea that the orthodox version of WWII has been scientifically refuted and comprehensively debunked, and can only be sustained by jailing people such as a nonagenarian grandmother who called fraud on the most colossal, outrageous, malicious slander in the entirety of human history. And they are blissfully unaware of the fact that the same people who pushed for war against Iraq with lies about "WMD" were also behind the Soviet Bolshevik Revolution and ensuing decades of enslavement and oppression across Eastern Europe, which they hope to bring to the entire globe.
However, an increasing number are beginning to wake up. They can smell a rat. They are aware that something is wrong with the narratives. They have been able to "turn" their heads to see puppeteers behind them. Although it is a much smaller number who have been able to escape from "the cave" out into the sunlight, to learn the identity of the puppeteers, and everything about them. And, unsurprisingly, when such enlightened people return to "the cave" and attempt to educate the mask-wearing, TV-brainwashed prisoners, the latter would initially experience such cognitive dissonance that they would do anything to cling on to their fallacious beliefs - such as harming the messengers.
People who merely suspect that something is wrong, and are left wondering if it's cock-up or conspiracy, or whether the motive for conspiracy is money or some political agenda, are always going to be very much out of the loop. They may understand very well the technical details of why some particular set of lies is false, but fail to see the bigger picture.
It's time to call a spade a spade. It's time to name the people responsible for humanity's most serious problems. It's time to expose who plagiarised the Machiavellian blueprint for world domination in Joly's 1864 book that included taking control of all shades of political opinion in the press, who was behind the creation of the fraudulent US Federal Reserve private banking system that allowed access to almost unlimited funds, who only four years later funded a communist revolution in Russia, who in the wake of WWI and even earlier claimed that "six million" of their number were going to be "exterminated", who were responsible for escalating WWII from a "phoney war" and limited regional conflict to a World War, who in the wake of WWII presented themselves as 'victims' rather than perpetrators with the blood of tens of millions on their hands, who spent ten years planning and orchestrating the 9/11 terror attacks, who pushed for war against Afghanistan and Iraq, and whose media hyped up a normal annual flu outbreak in order to oust Donald Trump and advance their satanic globalist communist agenda.
They call themselves "Jews", ostensibly of Middle Eastern origin, but most 'Jews' are Ashkenazi, non-Semitic white-skinned Khazars from the Caucasus, who only converted to Judaism around the 8th century A.D.. This was proved in a 2012 study by Eran Elhaik, a Jewish Israeli-born molecular geneticist. In a grotesque misnomer, these creatures allege that the many honest people who expose their crimes are "anti-Semites" or "anti-Semitic", yet, not only are the Khazar Ashkenazim not Semitic, they are the greatest anti-Semites of all, having spent more than 70 years steadily genociding the Palestinians, whose land they stole under a false prospectus of "exterminated" 'Jews'.
The liars can never refute the overwhelming evidence against them, hence they must resort to censorship and name-calling. Another ludicrous example of this is when their accusers are claimed to be "conspiracy theorists". Yet a plethora of facts are proof positive of an international conspiracy by Jewish supremacists who seek a global government based in Jerusalem, when national boundaries would have been abolished, apart from the boundary between the rulers tucked away in their Greater "Israel" and the enslaved populace on prison planet territory, where the only escape is to outer space.
As the appalling racist and hater Rabbi Ovadia Yosef said, "Goyim [Gentiles or non-Jews] were born only to serve us. Without that, they have no place in the world – only to serve the People of Israel. [...] Why are gentiles needed? They will work, they will plow, they will reap. We will sit like an effendi and eat… That is why gentiles were created." On the question of making peace with the Arabs, Yosef asked, "How can you make peace with a snake?" and described Arabs as "evildoers". His verdict on Muslims was: "They're stupid. Their religion is as ugly as they are."
Yosef was described by Benjamin Netanyahu as "one of the wisest men of this generation".
Over the centuries, Jews have always dreamed of fulfilling the Isaianic prophecy about the riches of the non-Jews passing over to the Jews. For example, from Isaiah 45:14, "The labor of Egypt, and merchandise of Ethiopia and of the Sabeans, men of stature, shall come over unto thee, and they shall be thine: they shall come after thee; in chains they shall come over, and they shall fall down unto thee, they shall make supplication unto thee..." And from Isaiah 60:5, "...the abundance of the sea shall be converted unto thee, the forces of the Gentiles shall come unto thee." And from 60:11-13, "...that men may bring unto thee the forces of the Gentiles, and that their kings may be brought. For the nation and kingdom that will not serve thee shall perish; yea, those nations shall be utterly wasted. The glory of Lebanon shall come unto thee..." And from 60:16, "Thou shalt also suck the milk of the Gentiles, and shall suck the breast of kings...".
Jews aim to establish "a government in Israel that will be the center of all world government, both for Jews and gentiles", and to bring about the Jewish dream of a time when "Israel is mighty" and Gentiles can be killed or raped with impunity. In short, their goal is nothing less than world conquest.
Their motive for their media-fuelled "coronavirus" hoax about a 'deadly' "pandemic" was part financial, but mostly political.
For example, the Jews' insider foreknowledge of the panic about to come early in 2020 offered up the prospect of making vast fortunes by shorting oil futures and the stock markets. The Dow Jones Industrial Average (DJIA) fell from 29,551 on February 12, 2020 down to 18,592 on March 23, less than six weeks later. A certain Jewish 'gentleman' named George Soros made a profit of $1.5billion in September 1992 by betting against the pound during the "Black Wednesday" crisis, as the British government was forced to withdraw sterling from the European Exchange Rate Mechanism (ERM).
More importantly, Donald Trump was an obstacle to the globalist Jewish supremacist agenda. The Jews' virus hoax offered the prospect of Donald Trump being defeated in the 2020 US election, and replaced with a globalist puppet such as the dementia-ridden pedophile Joe Biden.
Some commentators suggest that Bill Gates is behind the chicanery, and the motive is merely financial, of profits for Gates and vaccine manufacturers. However, at the very top of the food chain are those who run the mass media, censorship of 'platforms' such as Facebook and YouTube, the Jeffrey Epstein / Ghislaine Maxwell pedophile blackmail ring, and the Federal Reserve. The Jewish Mafia's stolen funds are funnelled through the Gates Foundation (so that the non-Jew Gates appears to be the source and can be presented as a "philanthropist"), on to their agents such as Professor Neil Ferguson and Dr. Anthony Fauci.
Ferguson's group the "Vaccine Impact Modelling Consortium" is funded by the Bill & Melinda Gates Foundation.
And Fauci's National Institute of Allergy and Infectious Diseases (NIAID) received a grant from the Gates Foundation in November 2019. Only a month previously, October 18, 2019, the Gates Foundation, the World Economic Forum and the John Hopkins Bloomberg School of Public Health conducted their Event 201 exercise in New York, a tabletop simulation of a pandemic involving a novel coronavirus transmitted from bats to humans via an intermediate animal.
Thirty days later, on November 17, 2019, the first person in China's Hubei province was apparently infected by the novel coronavirus and contracted "COVID-19". Towards the end of December there were hundreds of cases, and Chinese doctors were recognising them as the novel coronavirus. The official Western narrative would go on to say that the virus jumped from bats to humans via some intermediate animal.
In the looking glass "clown world" of the True Believers, we are supposed to imagine that the following facts, which can all be verified, are mere 'coincidence':
Benjamin Netanyahu and AA Flight 11 "passenger" Daniel Lewin both attained the rank of Captain in the Israeli elite special forces Sayeret Matkal, are both MIT alumni, and both lived in Denver and Jerusalem.
Abdulaziz al-Omari, one of the alleged Flight 11 "hijackers" (who later turned up alive and well!), said he'd had his passport stolen when his Denver apartment was burgled in 1995.
Netanyahu's close friend the Jewish real estate developer Larry Silverstein (whom he would phone every Sunday afternoon, New York time) obtained a 99-year lease on the WTC Twin Towers and secured 12-layer, 22-company insurance coverage against terrorist attacks on the buildings aggregating $3,546,809,904 "per occurrence", and including property damage and business interruption, six weeks in advance of two "occurrences" of terrorist attacks that destroyed the buildings.
Silverstein breakfasted daily at the Windows on the World restaurant on the 106th and 107th floors of the North Tower, but failed to turn up on 9/11/01 because of a "dermatologist's appointment".
Silverstein's son and daughter Roger and Lisa also uncharacteristically failed to turn up for work that day and were spared a ghastly fate, because they were "running late".
Bernard Kerik, the corrupt former New York Police Commissioner who was jailed for lying, conspiracy and fraud, took a four-day trip to Israel from August 26-29, 2001, two weeks in advance of the terror attacks, where he met with Israeli billionaire Eitan Wertheimer, who was "friends with prime ministers", and who was subsequently found to have given Kerik a $250,000 "loan", after Kerik shilled for the official narrative by claiming "there was no explosives" in an Israeli van, after multiple, credible reports of "tons" of explosives in the van, and also announced the "discovery" of a "hijacker's" passport that was handed in by a mysterious stranger who immediately ran off and was never seen nor heard from again - a passport that was said to have been "soaked in jet fuel" yet survived the fireball and was found in pristine condition.
Kerik was also found to have had rent payments to the value of more than $236,000 paid between 2001 and 2003 by Steven C. Witkoff, another New York Jewish real estate developer, and to have received a $28,000 "loan" from Nathan Berman, a prominent local Jewish real estate developer.
Israeli Jewish moving companies dominated the sector in New Jersey and New York in the late 1990s, at the very time when fireproofing - or Spray-applied Fire Resistive Material (SFRM, namely Cafco Blaze-Shield II) - was being shipped from Isolatek at Stanhope, NJ, to the WTC Twin Towers for fireproofing "upgrades" in Manhattan, NY in 1996 and 1998, when such moving companies would have been the prime suspect in a Jewish operation to switch the real fireproofing with an alternative embedded with accelerants, when local Jewish real estate developers would have been the obvious choice for "laundering" or disposal of the genuine fireproofing into their own construction projects, and when an Israeli shipping company would have been the obvious choice for shipping an alternative fireproofing of Israeli origin.
Israeli security officials noted in 1991 that the Israeli-owned Zim American-Israeli Shipping company's underground garage in the WTC was vulnerable to a truck bomb.
A truck bomb exploded February 1993 in the Secret Service's section of the underground car park beneath the North Tower (WTC1), after an FBI supervisor had called off a plan to substitute harmless powder for the explosives. The conspirators included a Mossad mole and an FBI informant, and the fires provided a pretext for SFRM upgrades.
The Zim American-Israeli Shipping Company moved out of the WTC on September 4, 2001 - one week in advance of 9/11/01, and was owned partly by the government of Israel and partly by the Israel Corporation, whose subsidiaries include Israel Chemicals Ltd. (ICL), which engaged in development and production of fertilizers, potassium and magnesia-based salts and bromine-based "flame retardants" that might be useful in deceptive building demolitions.
Flight 11 crashed into floors 94-98 of WTC1, which was at the very center of the contiguous floors 92-100 that had been fitted with "upgraded" SFRM.
It was revealed by NIST NCSTAR 1-6A, Table 4-2 that pre-2001, post-upgrade measurements (in 1996 and 1998 when the "upgrades" were performed) showed the upgraded SFRM on floors 94-98 to have different characteristics compared to the remaining upgraded SFRM - namely, higher density, high adhesion/cohesion, and a higher thickness, consistent with those particular floors having an alternative type of 'fireproofing' that would be useful to arsonists or building demolitionists.
Benjamin Netanyahu's BSc in architecture from MIT, together with access to blueprints of the WTC - either from his close friend Larry Silverstein, who built the original WTC7 in 1987 or from Lewis M. Eisenberg, a member of the Planning Board of UJA/United Jewish Federation and the Chairman of the Board of Commissioners of the Port Authority of New York and New Jersey who was to oversee the privatization of the WTC, after making decisions such as whether to upgrade the SFRM, provided Netanyahu with the skills and the information that would enable him to calculate that it was necessary to take out five contiguous floors (see here, or NIST's Appendix D, Interim Report on Preliminary Stability Analysis, D.4.1) in a Tower before the lack of bracing would raise the slenderness ratio of enough core columns above the critical slenderness ratio, such that Euler buckling and global collapse of the tower would ensue.
Netanyahu "predicted" in 1995 that "militant Islam" would bring down the WTC, and later credited his father Benzion with the "prediction".
In 1946 Jewish terrorists dressed as Arabs blew up the King David Hotel in Jerusalem, killing 92 people.
Benzion Netanyahu was chief aide and secretary to Ze'ev Jabotinsky, the Ukranian founder and driving force behind the Irgun terrorist group that took responsibility for the King David Hotel bombing. The King David Hotel bomber Menachem Begin, Irgun commander from 1944 to 1948, actually regarded Benzion Netanyahu as an "extremist".
Benjamin Netanyahu's father-in-law Shmuel Ben-Artzi was a member of the Irgun and the Haganah.
On the 60th anniversary of the King David Hotel bombing in 2006, Benjamin Netanyahu proudly participated in a two-day seminar commemorating the bombing.
Netanyahu was in London on the morning of the 7/7 subway (Tube) bombings in 2005, and had advance knowledge of the explosions.
Efraim Halevy, the London-born head of Israel's Mossad as of 9/11/01, very quickly revealed an intimate knowledge of the 7/7 bombings by referring to them as "simultaneous" in a newspaper article dated July 7, when the British authorities believed for the next two days that the explosions had occurred over a period of 26 minutes from 08:51 to 09:17, and did not manage to deduce that they were simultaneous until July 9.
The Mossad admitted to having foreknowledge of the London bombings.
In September 2004, ten months in advance of the July 2005 bombings, Metronet Rail selected Verint Systems, a subsidiary of Israel's Comverse Technology, to provide its video networked "security" for the London Underground. The system would "enable security personnel to monitor passenger platforms and certain remote sections of the track".
On September 10, 2001, the Washington Times reported on the findings of a 68-page paper by the Army School of Advanced Military Studies (SAMS). The SAMS officers described Israel's Mossad as: "Wildcard. Ruthless and cunning. Has capability to target U.S. forces and make it look like a Palestinian/Arab act."
"Dancing Israeli" and Israeli moving company Urban Moving Systems employee Paul Kurzberg gave his brother Sivan a camera on the day before 9/11/01.
Sivan Kurzberg was at the Doric apartment block, 100 Manhattan Avenue, Union City, New Jersey, on the day before 9/11/01.
On the morning of 9/11/01, before breaking news of the first plane (Flight 11) impact into the North Tower (WTC1) on the local talk radio WINS 1010 at 08:50:39 to 08:50:52, all within 4 minutes 22 seconds of the first crash at 08:46:30, three of the "Dancing Israelis" (known by the FBI as the "High-Fivers") - namely, Sivan Kurzberg, Oded Ellner and Yaron Shmuel, were observed atop their Urban Moving Systems van in the Doric apartment block's parking lot taking footage and photos of the burning Tower, whilst high-fiving, flicking a lighter as if in celebration, "horsing around", smiling, hugging each other and generally looking jovial but not at all shocked, well before the second impact and before unsuspecting observers believed it to be anything other than a tragic accident.
When separately questioned by the FBI after being arrested for "puzzling behaviour", Sivan Kurzberg, Oded Ellner and Yaron Shmuel all gave alternative accounts of how they came to be at Doric filming the attacks. None of their stories were physically possible or consistent with the laws of causality, and even if we try to be as charitable as possible by changing their accounts to try to make them less incredible, they are still physically impossible; for example, even if someone had phoned them at their Urban Moving Systems' office or warehouse at 3 West 18th Street, Weehawken immediately as the first plane impacted, it is not credible that they could have made the decision to take time off work, grab their cameras, run outside and take their employer's van (without consent?), make the journey to 100 Manhattan Avenue in Union City - which takes a minimum of 4 minutes, and this was the rush hour on a Tuesday morning, drive into the apartment block and park in the parking lot, get out and climb atop the van and start filming, etc., all within 4 minutes 22 seconds.
The "Dancing Israelis" were caught (when arrested on the afternoon of 9/11/01) in possession of airline tickets dated September 12, 2001, to leave the US for Israel (via Greece), which they had booked in June 2001 at their time of entry into the US.
Urban Moving Systems boss Dominik Suter, informed the workers (as confirmed by Omer Marmari) no later than lunchtime on 9/11/01 that they were fired and the company was closing down, before he fled to Israel three days later. This was hours before the 3:56 pm arrests, and not consistent with an innocent moving company boss, but consistent with the operator of a Mossad front that was directly involved in the 9/11 operation,
Dominik Suter's mother-in-law made a transaction on a Florida property on Friday, September 7, 2001, four days before 9/11, and one week before Suter and his family fled the US, consistent with foreknowledge that the family might need to flee the US within a week or so.
Rabbi Dov Zakheim was CEO of SPC International, a company that produced "Flight Termination Systems" capable of electronically hijacking aircraft and steering them by remote control using Command Transmitter Systems into tall buildings - or relatively short buildings like the Pentagon - at a range of hundreds of miles.
Zakheim was nominated by Bush to serve as Pentagon Comptroller in February, 2001, and was sworn in on May 4, months before a plane smashed into the Pentagon's accounts section, destroying documents and outdated standalone accounting computer systems, and killing accountants, bookkeepers and budget analysts. This occurred after the March 2000 public announcement that the Pentagon's finances were "in disarray" and almost $7 trillion of bookkeeping adjustments had been required in order to balance the accounts, with $2.3 trillion of those corrections lacking receipts, consistent with a scheme to steal tens of billions of dollars and having, as Comptroller, the power to hire and fire those who did data back-ups, so that co-conspirators could prevent or sabotage any data showing the money trail that wasn't destroyed from the plane crash.
Exactly six months after the attack, on March 11, 2002, at 09:38, the very time to the minute at which the plane impacted the Pentagon, Rabbi Zakheim was joined by approximately 500 co-religionists from 40 countries on the Pentagon lawn as they sang to commemorate the attack.
Zakheim was co-signatory in June 2000 to Rebuilding America's Defenses, a paper that wrote of the 'benefits' of a "new Pearl Harbor" (for Zionists hoping to instigate a series of wars for Israel under a false prospectus, e.g. Afghanistan and Iraq) and published by The Project for the New American Century (PNAC).
Jerome Hauer, yet another Jew, went on TV within hours of the 9/11 attacks to tell everyone that "It... certainly has the fingerprints of somebody like bin Laden" and that the World Trade Center collapsed because of "the velocity of the plane" and "intense heat probably weakened the structure as well".
Hauer was a modern-day Renaissance Man - an expert on building collapses who was forensically analyzing steel beams from partially collapsed buildings in 1999, a bioterrorism expert who advised White House staff on the evening of 9/11 to start taking the anthrax antidote Cipro one week before terrorists launched a US military-grade anthrax letters campaign targeting Democratic Senators and news media offices, and an Arab terrorism 'expert' who immediately knew who to blame for 9/11 and gave the job of WTC head of security to his 'friend' John O'Neill, a former FBI counter-terror specialist and a real Osama bin Laden expert who disagreed with the official policy not to kill bin Laden and was killed when the WTC collapsed.
On September 13, 2001, Don Radlauer (yet another Jew) of the Mossad's Interdisciplinary Center, Herzliya, Israel, published an "analysis" purporting to show that it would have been an "easy" task for the "hijackers" to navigate the planes.
Two hours' advance warning of the WTC attacks was transmitted through Odigo, an Israeli instant messaging company with offices in New York and in Herzliya, Israel.
No less than fifteen of the nineteen alleged hijackers were living in and around the area of Hollywood, Florida area, which since 1987 has been a sister city of Herzliya, Israel.
Many Israeli spies - most posing as "art students" - were operating in the vicinity of Hollywood, FL between January 2000 and September 2001, living in close proximity to the alleged future "hijackers", consistent with Mossad operatives working to frame Muslims for the Israeli false-flag terror attacks.
Israeli moving companies such as Moving On Up, Inc. and Continental Nationwide Moving Services, Inc., and at least five of the alleged nineteen "Arab" hijackers - Mohammed Atta, Khalid Al Mihdhar, Abdulaziz al-Omari, Waleed al-Shehri, and Marwan al-Shehhi - all operated from the same 3389 Sheridan Street, Hollywood, Florida mail drop address at the same time in 2000/2001.
United States Magistrate Judge David M. Cohen (yet another Jew) signed an affidavit for the search warrant dated September 12, 2001 for the Nissan parked at Portland - which also included "Atta's" bags that missed the flight at Boston. The cock-and-bull story about two "hijackers" inexplicably making a last-minute trip driving to Portland, staying overnight, leaving their car, and nearly missing their connecting flight back to Boston even though they were already in Boston on September 10, 2001, served to enable the 'discovery' of 'evidence' of Arabs being involved in the 9/11 attacks.
The bin Laden family were friends and business partners of the Bush family, and Osama was dying of kidney disease, and reportedly died in December 2001. He had already denied responsibility for 9/11 on several occasions.
The CIA admitted to creating tapes in which their "darker-skinned employees" acted the roles of "Osama" and his cronies.
The CIA's "Osama" tapes were broadcast through the "Arabic" channel Al-Jazeera that was set up by Dick Cheney's chum the Emir of Qatar, who visited the US from October 2 through to October 5, 2001, where he met with George W. Bush, Dick Cheney (an "old friend and business associate"), Colin Powell, Rudy Giuliani, Paul Wolfowitz and Richard Myers, and then met his pal Cheney again on October 20 to discuss the "Osama" interviews.
At 9:00 a.m. on the morning of 9/11/01 the Chantilly, Virginia-based National Reconnaissance Office began conducting an exercise of a plane crashing into one of its towers.
Thirty days after the Gates Foundation, the World Economic Forum and the John Hopkins Bloomberg School of Public Health conducted a tabletop simulation of a pandemic involving a novel coronavirus transmitted from bats to humans via an intermediate animal, the very same thing happened in real life, supposedly in China.
Suppose there is an anti-lockdown protest, and the police claim it is a "gathering" and attempt to disperse the protestors. Given that governments who promote the official 9/11 conspiracy theory are also necessarily coincidence theorists, how can they prove it wasn't just a coincidence that a relatively large number of people turned up around the same place at around the same time?
An example of how investigators are steered off the trail is the case of the Carl Cameron Fox News investigation into Israeli spies operating in the US shortly before the 9/11 attacks. Investigators said that to pursue or even suggest Israeli spying through Comverse (which was also involved in the London 7/7 bombings) was tantamount to "career suicide".
Imagine a group of people so repulsive and psychopathic that they need to have laws enacted making it a 'crime' to hate them. Even before the early 1940s when a certain gentleman named Adolf Hitler would go on to do the exact same thing, Jews by their own admission had been booted out from scores of locations on at least 108 occasions, after the local populace had leaned of their true nature. If you get thrown out of a bar once, then you could argue that it was the fault of the bouncer or the bar owner. Twice, and it could be coincidence. But 108 times??????
We are supposed to believe that the laws of physics were suspended on 9/11/01, so that "office fires" (which briefly reach temperatures of around 1,000 C locally) would partially evaporate steel beams (even melting requires at least 1,426 °C or 2,600 °F for the WTC steel, given its maximum sulfur content of 0.05%; the maximum of 0.3% carbon would barely lower the melting point to below that of iron's 1,565 °C) and melt fireproofing (NIST conducted measurements on the Blaze-Shield II to determine specific heat at temperatures up to 1,200 °C; any phase changes or decomposition would require considerably higher temperatures).
We are also supposed to believe that science was again suspended in the early 1940s, when cremation ovens that had always previously required at least 20 - 30 kg of coke per corpse were somehow able to do the job with a mere 1.6 kg of coke per corpse, which isn't even enough to evaporate the water in the typical corpse, let alone calcinate the bones so that they can be crushed, and another 1034 "anti-Semitic" supernatural photons colluded in another part of the "cover-up" by making mass open-air cremations invisible to people and cameras in Allied aircraft.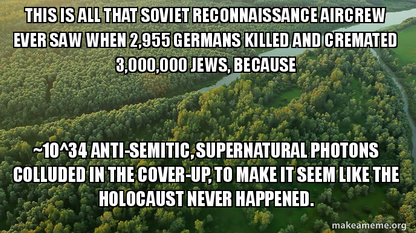 And "anti-Semitic" walls played their part in aiding and abetting the 'evil' Germans, by only allowing Prussian (or Iron) Blue staining to become visible in those gas chambers used to save human lives by exterminating typhus lice in clothes and bedding, preventing it from forming in the basement morgues alleged to be homicidal "gas chambers", and somehow ensuring that the cyanide concentrations in the alleged "gas chambers" would be 2,586 times lower in those "gas chambers" compared to the delousing chambers, as if the "human exterminations" had never happened.
And now we are supposed to believe in a new 'biology', in which antibodies, vaccines, face masks, antisocial distancing and obsessive compulsive hand-washing are the only things that can save human beings from viruses, there is no such thing as memory T-cell immunity, and there is no such thing as herd immunity (except, bizarrely, if it's been brought about by a vaccinations policy). Even though early vertebrates such as fish were fighting off viruses back in the Devonian Period, hundreds of millions of years ago.
The liars have had their way for long enough. It is time to build a new society, based on truth rather than lies.
Appendix
This shows the scatter plot and some of the values when we take the log of both the independent variable - Jews per million of population (pmp), and dependent variable - alleged "Covid" deaths pmp.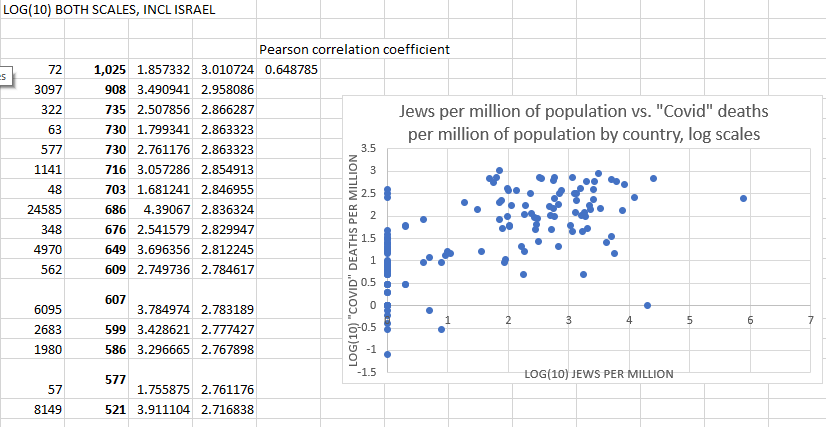 On the linear scale Israel is the huge outlier that masks the correlation elsewhere. Exclude Israel and the correlation goes up to 0.26 (still weak) even on a linear scale. Take the log of just the independent variable and the correlation becomes moderate at around 0.50, with a small increase when Israel is excluded. Take the log of both variables and the correlation becomes strong at around 0.65. (For cases where a variable is inputted as zero to denote negligible levels, we take the log as -2 to prevent an infinity error.)
Here are the full input data; actual values on a linear scale for both Covid deaths and Jews per million population.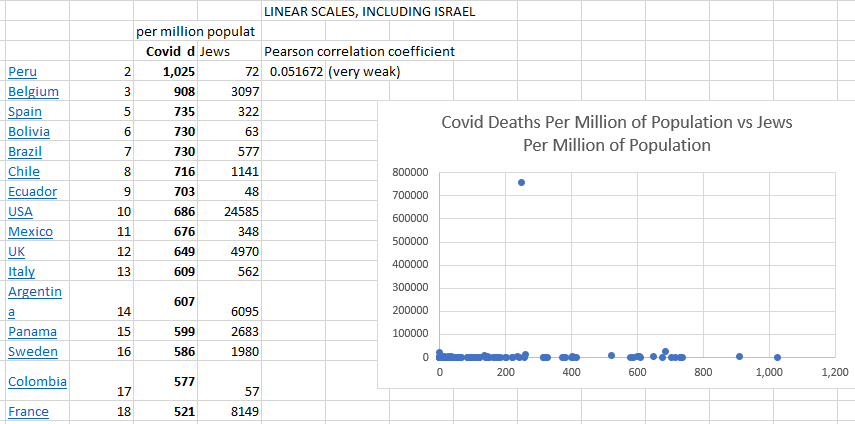 ---
Return to Take Our World Back! front page